Visibility on Every Order, User and Product
Get real-time information on product demand, inventory levels and shipments anywhere, anytime.
Talk to a Sales Rep
Visual KPI Dashboards
Propago's dashboards provide real-time snapshots of your portal's overall performance. Over 70 different standard widgets offer visual information on inventory levels, order history, shipping costs, product demand and more. Create, edit and customize dashboards to your preference and capture exactly what you want.
Top 10 Inventories in Demand
Top 10 Spending by User
Top 10 Most Ordered Parts
Top 20 Low Stock Parts
Popular Part Categories
Orders by State
Frequently Used Carriers
Average Order Cost
Average Order Turnaround
Total Sales by Month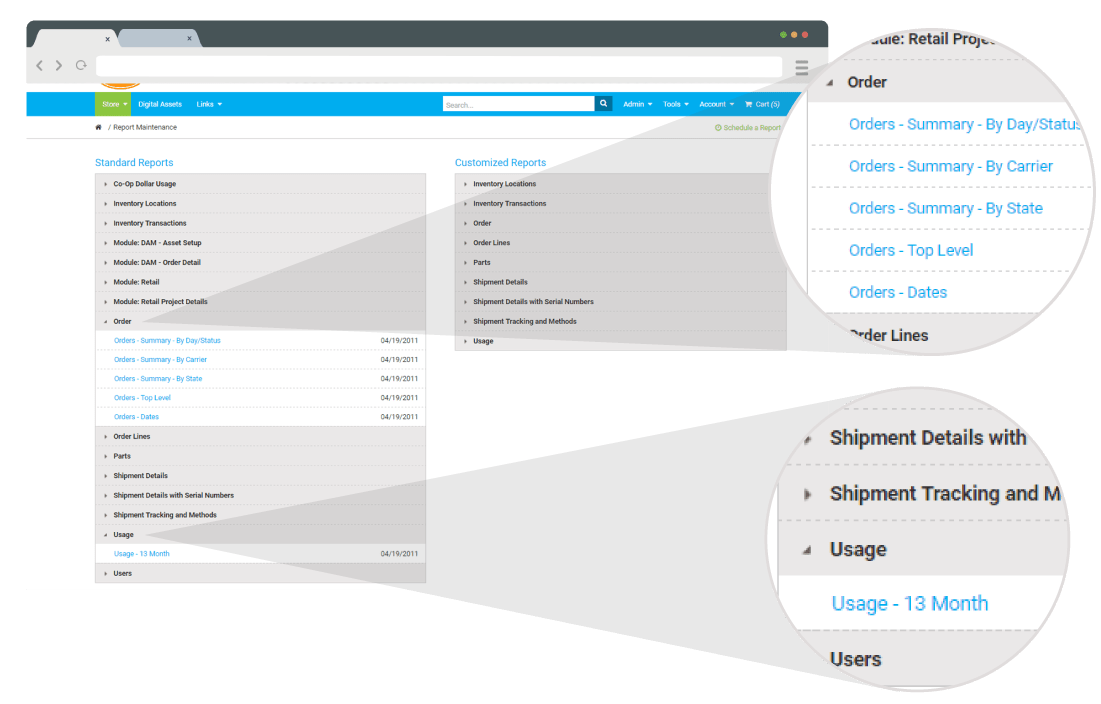 Standard Reporting
Propago offers incredibly sophisticated reporting and tracking capabilities, which can dramatically enhance efficiency and control costs. Standard reports are available to track critical areas of your storefront. Reports such as usage, orders, shipping, inventory and more are provided to keep you informed on exactly what is going on and help you make educated decisions.
Export Reports in different formats
Customize, add, delete, and edit reports
Schedule reports to run at any desired frequency
Deliver reports via email to any number of recipients
Push Reporting
Automate delivery of different reports via email. Create reporting packages with any number of reports that can get sent to any number of emails. You can control what reports are included, what frequency they get sent out and ultimately, who receives them.
Ad-Hoc Reporting
We provide over 40 standard reports, but each of our reports is 100% customizable by you (no IT intervention needed!). You have the ability to add/remove columns, summarize and filter reports any way you wish. Once you have crafted the perfect report for your needs you can save it in your personalized reports and it will retain your settings until you change them. As they say "data is knowledge", with Propago you will always be in the know.
The reporting engine in Propago is definitely a point that sets us apart from the rest of the pack! Naturally there are two important sides of reporting – the first is ensuring that we are capturing all of the data that is required; the second is building interfaces that allow the end users a quick and easy way to pull that data out in a usable format. Propago reporting capabilities include the ability to track virtually any type of data on products, users and orders. This could include items such as commodity codes, item types, manufacturers, cost centers, regions and virtually anything else. This data is then compiled and presented through Propago reporting.
Inventory Alerts
Propago supports inventory alerts that can be sent to multiple buyer groups to keep you well informed on exactly what is going on with your inventory.
Propago's automatic alert notifications give you a proactive advantage in managing your products. Receive alerts on any parts when stock runs low to prevent product back orders. Alerts can be set for specific products, specific recipients and frequency.